FPD Executive Management is responsible for the management and delivery of GSFC flight project missions and mission support, including...
 10 space flight and ground system projects in study/formulation

  25 in development/implementation

  More than 30 operational on-orbit satellites)
Executive leadership is directly involved with many NASA programs (Living With a Star, Solar Terrestrial Probes, Earth Science, Joint Polar Satellite System, Physics of the Cosmos, Cosmic Origins, Reimbursable, New Frontiers, Discovery, Mars, and Earth Science Technology. In addition, leadership plans major Earth, Space Science, and Communications satellite missions; develops make-or-buy strategies; develops/implements acquisitions within Federal policies to ensure maximum value; and reviews technical/programmatic progress against plans, providing essential spaceflight development experience to keep programs/projects on track, including GSFC's flagship mission, James Webb Space Telescope.
Tom McCarthy
• Director
In February 2021 Tom was selected as the Director of Flight Projects (FPD) at NASA's Goddard Space Flight Center (GSFC) prior to this Tom held the role of Deputy Director fo the Flight Projects Directorate since June 2015.
Mr. McCarthy has 36 years of experience in the Aerospace industry with more than half this time spent with General Dynamics/Lockheed Missiles & Space /GE/RCA/Martin Marietta/Lockheed Martin in the Thermal Systems as well as the Systems Integration & Test disciplines. He joined NASA GSFC in 2001 as the Chief Technology Engineer for the Thermal Engineering Branch, served as the Applied Engineering & Technology Directorate Chief Engineer from 2005 thru 2007; as the Division Chief for the Mission Engineering and Systems Analysis Division from 2007 to 2010; as the Deputy Associate Director for Earth Science Projects from 2010 to 2013 and as the Associate Director for Earth Science Projects at GSFC as well as the Program Manager for both the Earth Systematic Missions Program and the Reimbursable Projects Program at NASA HQ from 2013 to 2015.
He holds a Master's degree in Mechanical Engineering from Villanova University, an MBA in International Business from the Philadelphia College of Textiles & Science and is a registered Professional Engineer in the states of Maryland and Pennsylvania.
Cynthia Simmons
• Deputy Director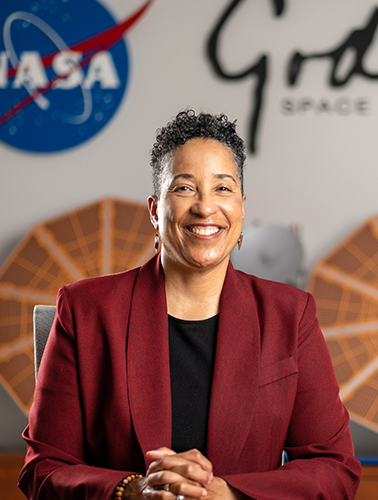 In April 2021 Cynthia Simmons was selected as Deputy Director of the Flight Projects Directorate (FPD) at NASA's Goddard Space Flight Center.
Ms. Simmons' career began in 1982 as a U.S. Air Force 2nd Lieutenant in the Office of Special Projects; and was distinguished with the Air Force Meritorious Service Medal with recognition by the Under Secretary of the Air Force for an innovative operational concept that enabled faster and more efficient national defense threat assessment. After the Air Force, she worked at Unisys Corp; and then for the Iridium Program supporting launches of 82 satellites within one year receiving awards for her design of a new on-orbit assessment technique for a Low Earth Orbit, multi-satellite, cross-linked constellation with 24/7continuous real-time downlinked data. From 2000 to 2009, she was an engineer for international and DARPA missions in addition to supporting Goddard missions including GOES L/M/O/P, Lunar Reconnaissance Orbiter (LRO), Global Precipitation Measurement GPM) and Sample Analysis at Mars (SAM). In March 2010, she was selected as Instrument Project Manager for DESDynI; Astro-H/Soft X-ray Spectrometer (SXS) in 2011; and then in 2013 for ICESat-II/ATLAS. More recently, she was Code 550 Division Chief and then Deputy Director for Planning and Business Management in the Engineering & Technology Directorate. In her career, she has supported 21 launches for NASA, DoD and industry. She is a Women@NASA Honoree (2014), Goddard Senior Fellow and 2016 Samuel J. Heyman Service to America Medals (Sammies) nominee for her contributions to the country. She has received several NASA awards and honors including Agency Honor Silver Achievement Award, several NASA Exceptional Achievement Awards and Robert H. Goddard Leadership Honor Award for her leadership of instrument projects.
She has a Bachelor of Science from the U.S. Air Force Academy and Master of Engineering from the University of Maryland College Park in Aerospace Engineering; and is currently pursuing a PhD in Applied Mathematics at the University of Maryland Baltimore County.
Cathy Richardson
• Deputy Director of Planning and Business Management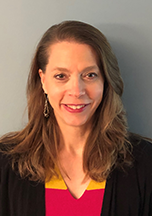 In April 2021 Cathy Richardson was selected as Deputy Director of Planning and Business Management of the Flight Project Directorate (FPD) at NASA's Goddard Space Flight Center. Ms. Richardson has supported the NASA mission for more than 30 years, joining NASA GSFC in 2004 as an Instrument Manager for several GOES-R instruments. As an Instrument Project Manager from 2007 to 2012, she led the development of the TIRS instrument for LDCM and the ATLAS instrument for ICESat-2. Most recently, she provided leadership to the Earth Science Projects Division within FPD, the Earth Systematic Mission Program – Goddard, and the Reimbursables Project Program, serving as the deputy from 2016 to 2018 and, since January 2019 as the Program Manager and Associate Director.
She holds a master's in mechanical engineering from the University of Maryland and a bachelor's in aerospace engineering from Virginia Tech.